Maroons Baseball Club 12U Fundraiser
In an effort to provide high-class and competitive baseball and softball opportunities at an affordable rate, the Maroons Baseball Club heavily relies on the generosity of donations, fundraising, and sponsorships. Often travel baseball and softball cost thousands of dollars annually, but the Maroons Baseball Club reduced the cost drastically compared to other organizations. Furthermore, making these opportunities accessible to underserved and overlooked communities is a leading directive of the Maroons Baseball Club.
About Us
Motto: We develop people first and baseball/softball second. (Playing baseball/softball will end someday, unfortunately. If we do not take the time to develop the character of the young individuals we influence, then baseball may not have lasting value once it is over.) Mission: The Maroons Baseball Club stands to develop character in our youth and provide access to competitive baseball opportunities in underserved communities through intentional coaching and character leadership. Organizational Pillars: 1. Develop character and unity with the young players we serve and prepare them to serve our communities. 2. Provide a unique opportunity and emphasis on baseball in communities with limited access and exposure. 3. Provide high-class, competitive baseball opportunities that meet the socioeconomic considerations of our communities. The Maroons Baseball Club is a registered 501(c)3 not-for-profit organization. Coaching Philosophy: As coaches, we live out a mission to first and foremost, develop the character of the athletes and the community we impact through leading by example. Our coaches understand that the actions and examples they set carry heavy and impactful weight to those around them. Our coaches understand they hold immense power and influence on our community and will strive to use that tool only to improve our world. Secondly, our coaches teach a fundamental approach to baseball that emphasizes a positive and uplifting culture of growth. If our young players become better young people for our community from our coaching, that is the most rewarding win that our coaches can achieve. If they also happen to develop their baseball skillset more in the process, that is just an added bonus. If our players push us to be better leaders and coaches for our youth, then our coaches will realize a generational impact on the community. Service Population: The Maroons Baseball Club offers baseball to players ages seven years old to seventeen years old. Additionally, the Maroons Baseball Club will be piloting the launch of our softball program in the summer of 2023. Our initial pilot team will offer softball to ladies twelve years old to fourteen years old on our first 14U team. Service Region: The Maroons Baseball Club has an extensive service region across Kenosha County, Wisconsin, Lake County, Illinois, and Cook County, Illinois. Spanning from Kenosha, WI down to Winnetka, IL, and out to Fox Lake, IL, the Maroons Baseball Club is privileged to work with the youth of many communities. Although the Maroons Baseball Club is designed to provide a developmental emphasis on baseball and softball to the Zion-Benton district, it is not exclusive to the people of the Zion-Benton community. However, we are pleased that a vast number of our players come from the local district! Maroons Baseball Club Scholarship Fund: The Maroons Baseball Club established the Maroons Baseball Club Scholarship Fund, in the spring of 2022, to give back to the Zion-Benton district. The first awards from the fund will be awarded in the spring of 2023. The Maroons Baseball Club Scholarship Fund offers a one-time award to one baseball player and one softball player, both in senior standing and graduating from Zion-Benton Township High School. These individuals must also be pursuing further education from a two-year institution, four-year institution, or trade school. The award will go to the individuals that exemplify exceptional character and leadership skills in school, on the field, and in the community.
$2,270
raised of $3,000 goal
How Blast Works
1.
Select an Athlete
Click the yellow donate button, then choose your favorite athlete to support and follow. You can also choose Team instead of a specific person.
2.
Donate
Use your credit/debit card, or mail a check.
3.
Weekly Updates
Receive weekly updates containing the content the team posted to Blast the previous week. This can include schedules, scores, videos, pictures, and more.
Want to get your company in front of our players, coaches, parents, fans, and sponsors all year?
Reach:

71 Total
(13 Athletes, 13 Coaches/Parents, 45 Fans/Sponsors)
Become a Digital Ad Sponsor!
Create your ad instantly, then buy it if you like what you see. Plus, you can change your ad throughout the year. 4 ads available per team.
Learn More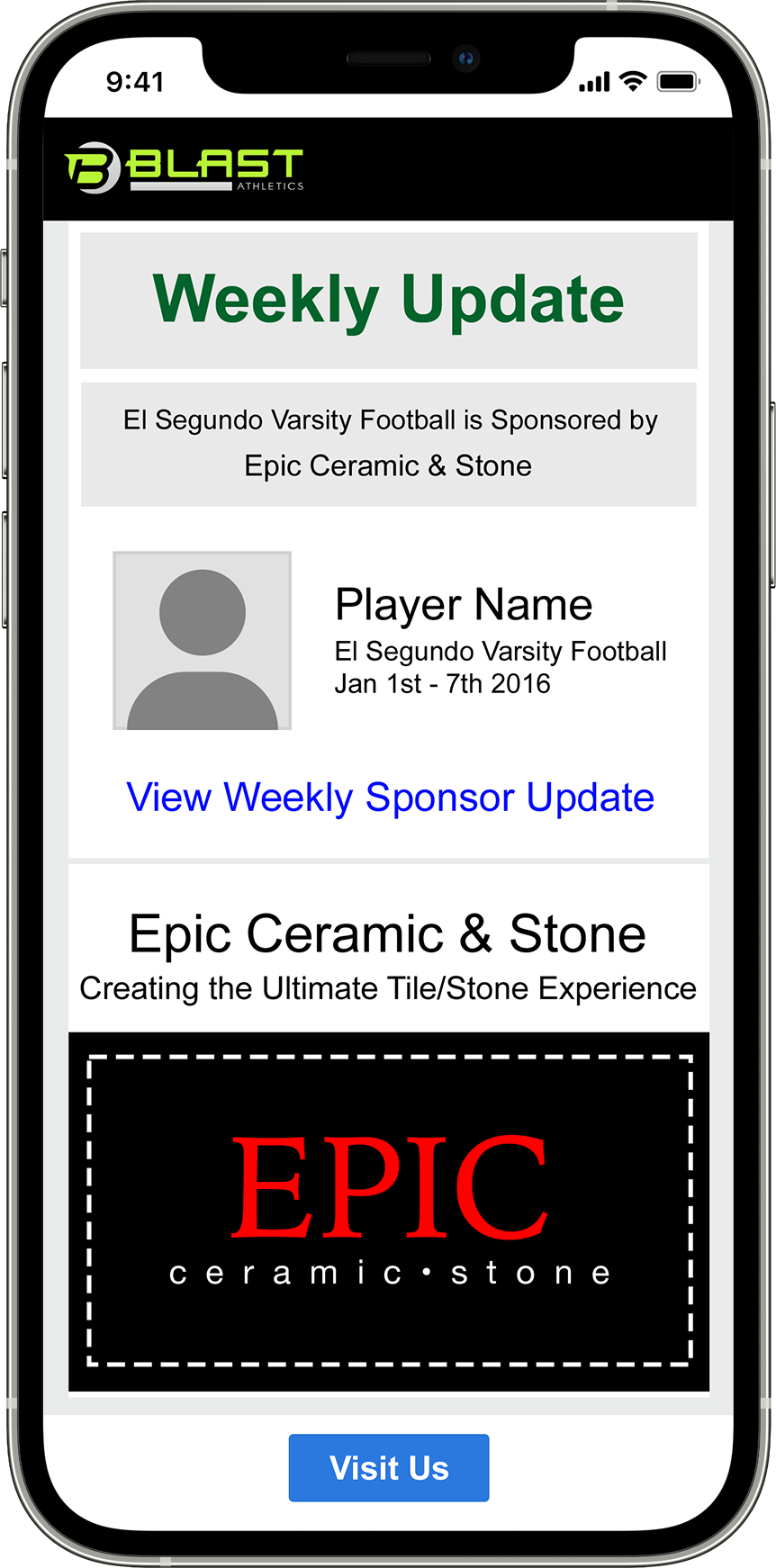 Your ad on Weekly Sponsor Update, plus more:
Sponsor Updates
Final Scores
Game/Practice/Event Reminders
Messages
You've Been Tagged
We provide analytics on your ads:
# Sent
# Opened
# Clicks
# Unique Recipients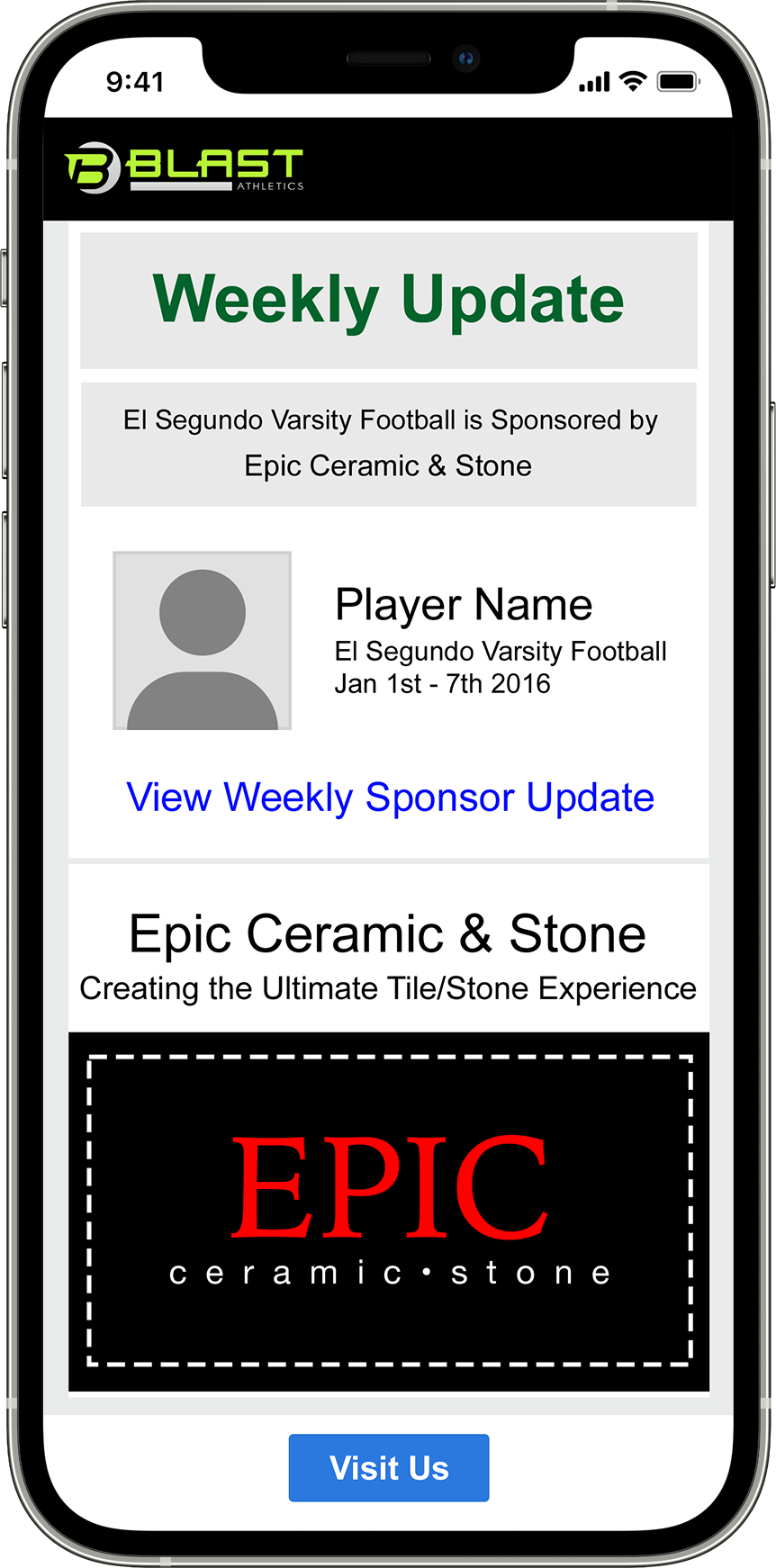 Want to Create Your Own Fundraiser?
---
Contact your Local Rep: